#23 2019 THE GROTTO OFF SITE PROJECT


The grotto, lit by shattered flint and kindling fifty thousands years before Christ, now illuminated by aluminium charged iPhone screens. Technologies overlapping to serve the same primitive desire. We might imagine our forebears casting shadows by holding carved idols between the campfire and the cave wall. Not unlike an Espom projector. In Altamire, Lascaux and Escoural they were laying the foundation of performance art in our collective subconscious. Hushed audiences huddled together watching chalk and natural hues mixed together in real-time.

The cave a contemporary gallery. Domestic and ritual. Burial chamber.

We can fall backwards through time. Take our technology with us and cast film over their frozen frames, levitate AR echoes into this interior world. Duplicate and rotate a hollowed out rock. Experiment with a total collapse, until the batteries run out and everything turns dark. No one thought to take a power bank, so instead we concentrate on our remaining senses, smelling stone and listening to the formation of a stalagmite. Palaeolithic perfume.

At the expanding edge, bordering the 2020s and a new wave of innovations, we seek a spiritual return to collapse time. Coded to our DNA, the cave stands symbolic of communal life, warmth and empathy. A technological awakening promises to trigger a smuggled instinct, just as an apothecary mixes togethe an odour that unlocks a childhood memory.

Outside the cave, a final echo, the ZIP creates a third interior space. The folder as approximation of the original, filed with all manner of file types, transmuted inaccurate renditions of experiences. Impossible to capture and distill but infinitely more transmittable.

Composed by Daniela Grabosch and Hugo Canoilas THE GROTTO OFF SITE PROJECT brings together 155 files alluding to the creation and artistic occupation of The Grotto, a man-made cave and collaborative platform constructed into Galerie Quadrado Azul, Lisbon. Founded by Canoilas, The Grotto will see 25 interventions between January 2019 and December 2020, with Grabosch unveiling new scent and AR works this December 2019.

With contributions by: Szófia Canoilas, Vasco Costa, Silvia da Fadas, Filipe Feijão, Katharina Höglinger, Beatriz Marquilhas, Musa Paradisiaca, Sophie Nys, Rubene Palma Ramos and Jorge Neves, Ricardo Roque, Titania Seidl and Ana Vaz.


[Text: Pita Arreola + Elliott Burns]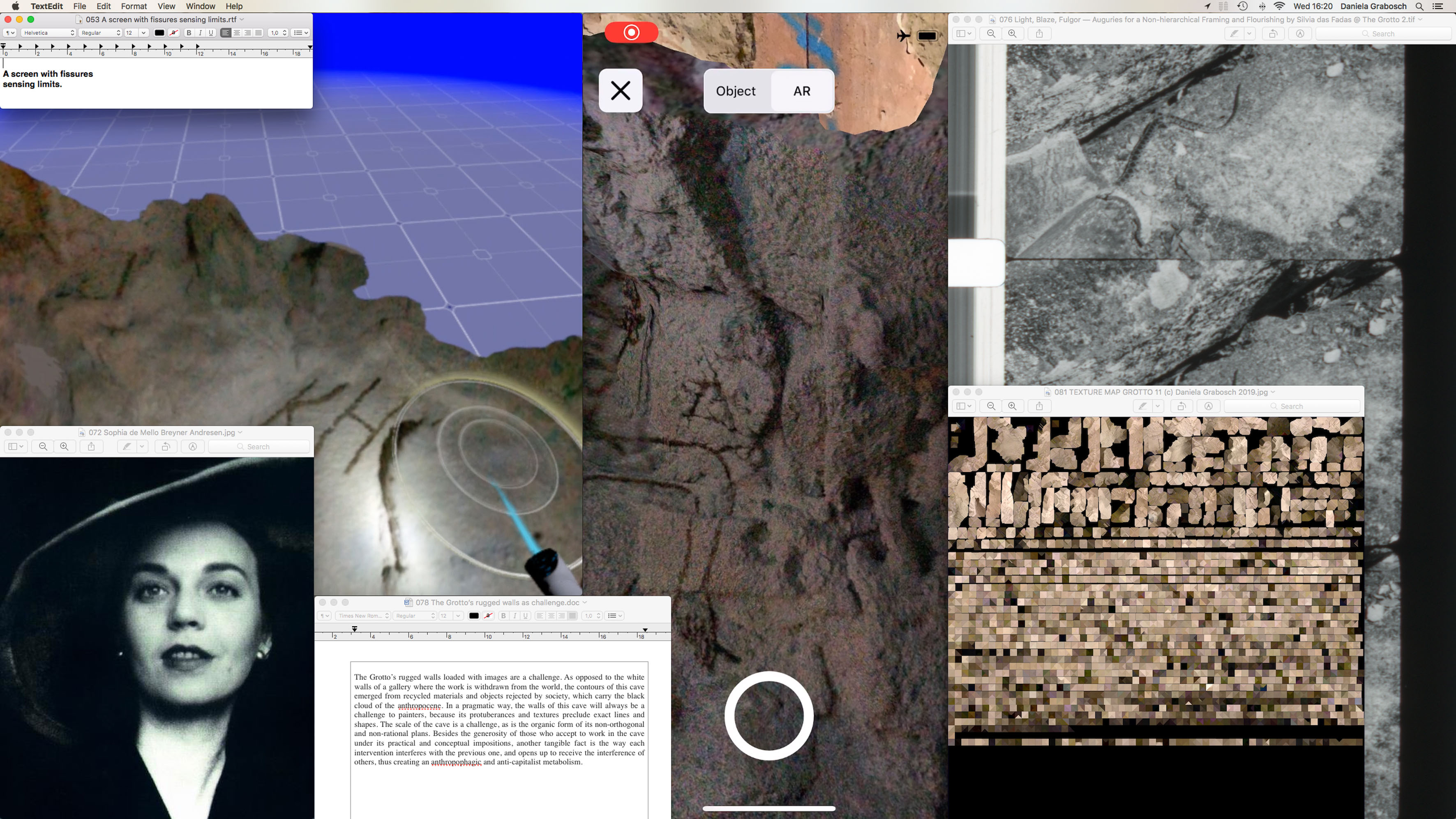 © Daniela Grabosch unless otherwise stated. Images, Videos and Texts can only be used under permission of the author(s).