#22 2019 INSTRUCTIONS FOR [RE]VISITING [saˈlɔ] [ˈsɑlo] [salˈo]
Re-research of the former artwork [saˈlɔ] [ˈsɑlo] [salˈo] - COORDINATES OF HISTORY / ALGORITHMS FOR REALITY. Variable due to the size and conditions of the exhibition space [Screening, performance, performative installation]

Video: 16:09 (HD), color, sound, 38:42 min.

www.vimeo.com/353368422/8ebaf9f4b5


INSTRUCTIONS FOR [RE]VISITING [saˈlɔ] [ˈsɑlo] [salˈo] - COORDINATES OF HISTORY / ALGORITHMS FOR REALITY puts the focus of the research on the female protagonists of the resistance movement in Italy during World War II.

The work has been published in a digital format at www.offsiteproject.org/salo and was shown as a performative screening at the Austrian Cultural Forum London (UK).

The audience and curators have access to a digital score (see below) which gives them the possibility to perform the research by clicking/arranging the links themselves.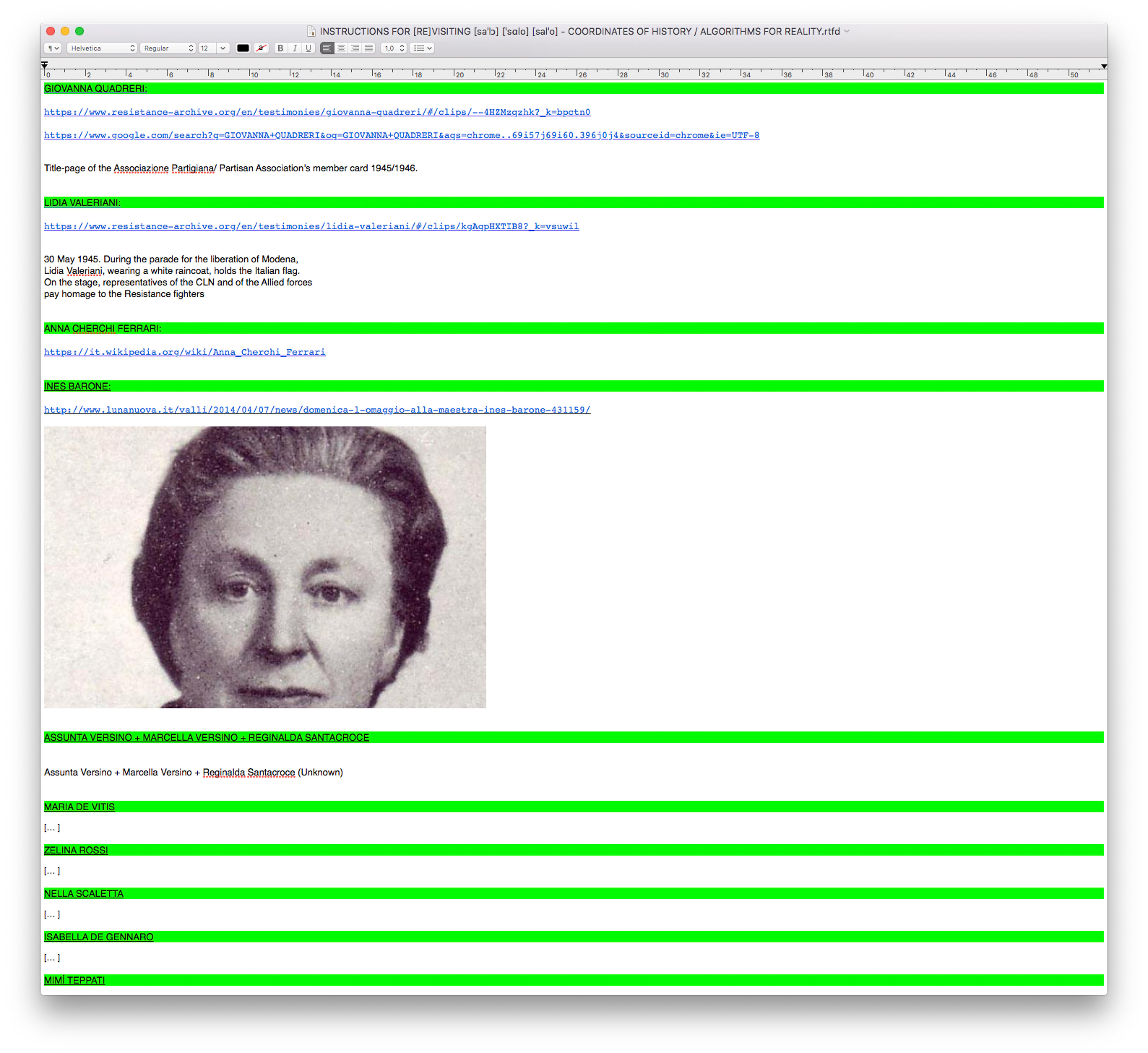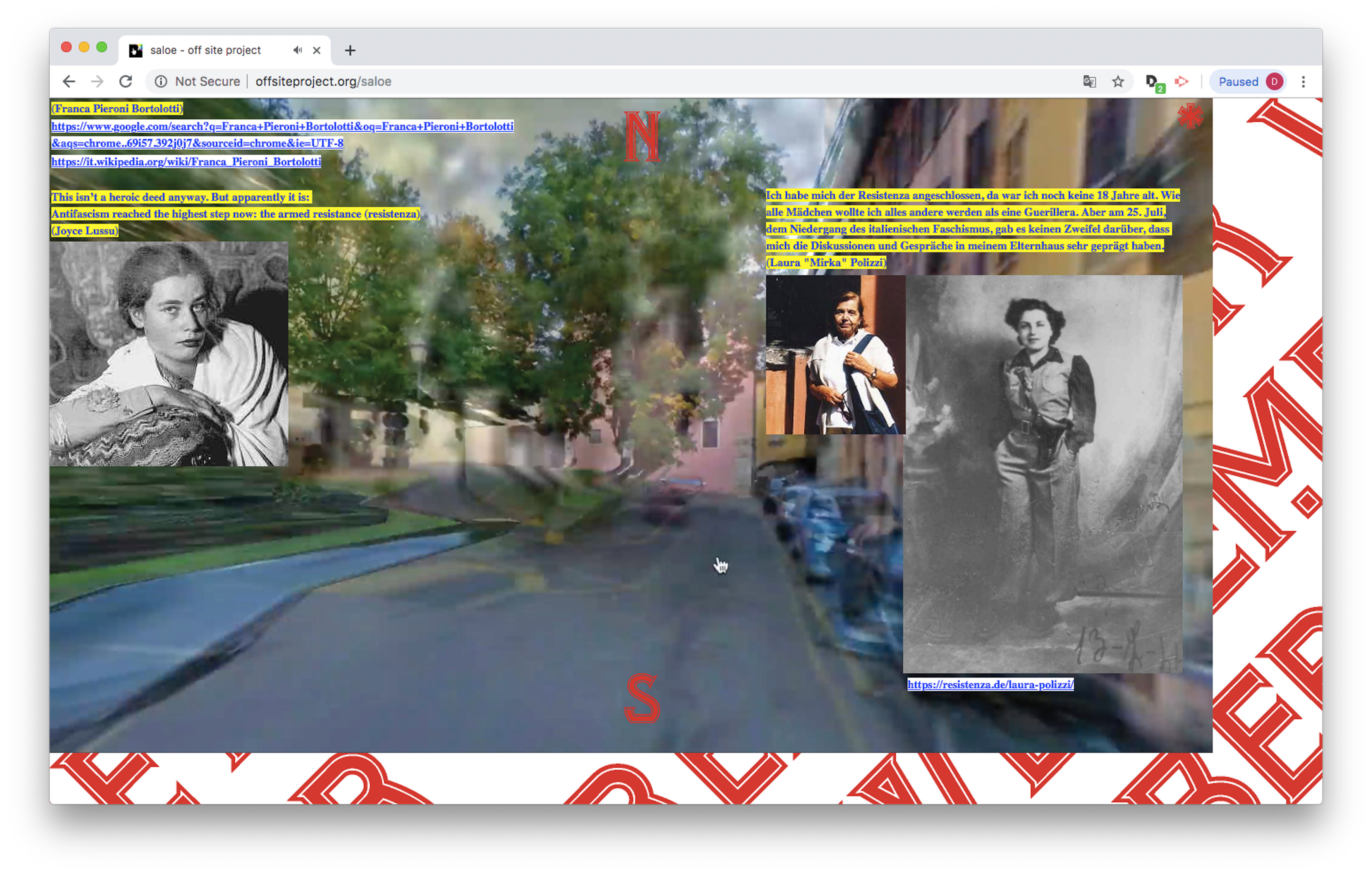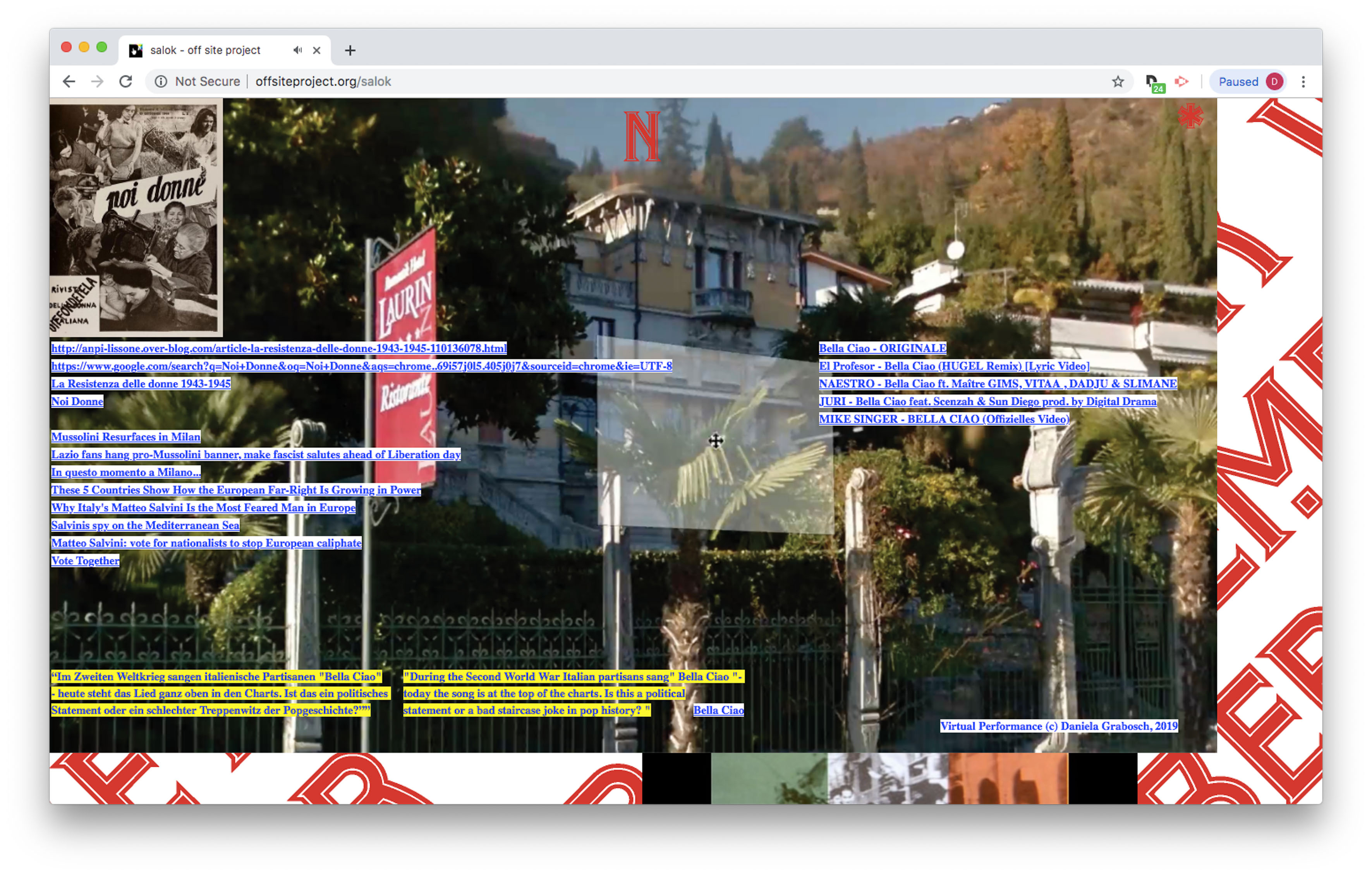 [Score]

[Documenation Off Site Project]
[Installation view: Austrian Cultural Forum London]

The Italian resistance movement (in italian Resistenza italiana or just la Resistenza) is an umbrella term for Italian resistance groups during World War II. It was opposed to the forces of Nazi Germany as well as their puppet state local regime, the Italian Social Republic, especially following the German military occupation of Italy between September 1943 and April 1945, though the resistance to the Fascist Italian government began even prior to World War II. The movement that rose among Italians of various social classes is also known as the Italian resistance and the Italian partisans (partigiani in Italian), and the brutal conflict they took part in is referred to as the Italian Liberation War (when referring to the part they took in the Italian Campaign against the Axis) or as the Italian Civil War (when referring specifically to the conflict with Italian Fascists). The modern Italian Republic was declared to be founded on the struggle of the Resistance.

Women played a large role. After the war, about 35,000 Italian women were recognized as female partigiane combattenti (partisan combatants) and 20,000 as patriote (patriots); they broke into these groups based on their activities. The majority were between 20 and 29. They were generally kept separate from male partisans. Few were attached to brigades and were even rarer in mountain brigades. Female countryside volunteers were generally rejected. Women still served in large numbers and had significant influence.

[www.en.wikipedia.org/wiki/Italian_resistance_movement]



© Daniela Grabosch unless otherwise stated. Images, Videos and Texts can only be used under permission of the author(s).